Quality writing
Exclusive writing implements for special occasions
A handwritten letter to a loved one, an important signature or an elegantly designed invitation card. There are moments when we want to give our signature a very special touch.
Be inspired by our premium writing implements: elegant fountain pens that inspire joy in writing and underline the personal character of your handwriting.
"Celebrate your handwriting": high-quality writing implements from Lamy
Whether small and regular, large and curved, straight or inclined: every handwriting is unique. Reason enough to celebrate them appropriately. For this purpose, Lamy has high-quality writing implements that make writing by hand a special experience – and thus give your own handwriting the finishing touch.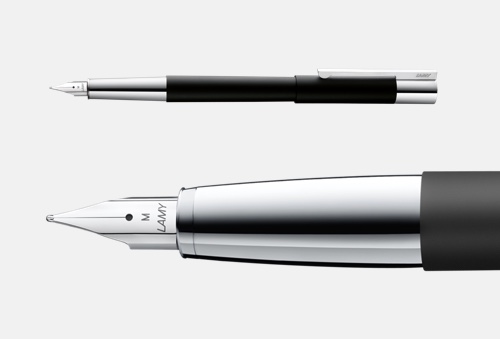 Even with the surfaces, thanks to high-quality materials and sophisticated finishing techniques, nothing is left to be desired. The body of the
LAMY scala
, for example, is made entirely of stainless steel and, depending on the version, is given an elegant lacquer, titanium or brushed matte finish. Grip and clip are high-gloss chrome-plated and round off the elegant appearance of the series. The
LAMY studio
series with the characteristic propeller-shaped clip is similar: it is also made of stainless steel and then refined, for example with valuable palladium or highly polished platinum.
A feather whispering across the paper. Shiny, deep blue lines and curves. The pleasant heaviness of the fountain pen resting between your fingers. When we write by hand, we do it with all of our senses – and with style, thanks to Lamy. The company stands worldwide for writing implements that combine excellent design with outstanding quality "Made in Germany". What they all have in common is the combination of functionality and aesthetics, which makes them far more than just a commodity: namely stylish accessories that make an individual statement in special moments.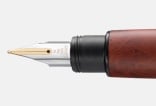 With the selection of the desired finish and the right nib strength, you are already well on the way to the perfect writing instrument.
The LAMY accent
model , in which the handle can be exchanged, offers even more variety . In this way you can flexibly choose between selected materials such as briar wood or diamond-coated lacquer and give your writing instrument a new look at any time.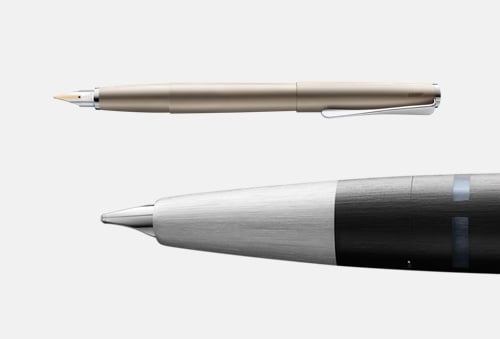 Design classics such as the
LAMY 2000
and elegant series such as
LAMY scala
,
LAMY studio
and
LAMY dialog impress
with their special value, which is reflected in the use of first-class materials, among other things. For example, the
LAMY 2000
,
LAMY dialog 3
or
LAMY studio Palladium
fountain pens have a platinum-coated 14-carat gold nib that ensures a uniquely smooth writing experience. Depending on your writing habits, you can choose between different nib strengths and thus get the best out of your own handwriting.
In addition, the premium writing implements from Lamy impress with their innovative technical solutions and details.
The rotating mechanism
of the
LAMY dialog 3
is unsurpassed, allowing the spring and clip to be retracted elegantly. The suppleness and perfection of the movement testifies to the sophisticated workmanship of the model: the nib unit of the
LAMY dialog 3
is adjusted by hand on each individual fountain pen so that the nib and clip run exactly in one line - precision at the highest level. The right writing instrument gives an individual handwriting even more expressiveness - and with the large selection of high-quality fountain pens, ballpoint pens, rollerball pens and mechanical pencils, Lamy makes it very easy to find the right model.